PAINTING AND SEWING - A Creative Commitment
Murals featured from DEVON HOUSES, SWIMMING POOLS AND HOTELS 1997-2006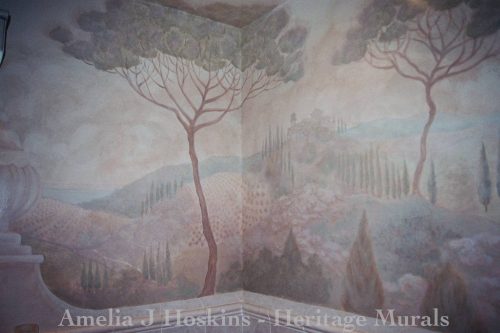 I have always been involved alternatively with painting or sewing, since becoming self employed abroad in 1978 (bespoke clothes, alterations and boat upholstery).  I was a decorative furniture painter working out of the Cellars on Exeter Quay, on moving to Devon in 1994.  Mural commissions came in via interior designers who commissioned furniture painting, and were a logical progression from 5 years 1989-94 freelance furnishings textile designing Amelia Jane Designs for London Studios, the result of a Post Graduate course at London Central St. Martins undertaken immediately on returning from abroad.  I was well prepared for designing mural scenery, since my creative visions for textile designs had become more focused on historical scenes (more like wallpaper).  I well recall deciding 'I will be a muralist'!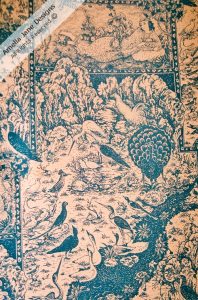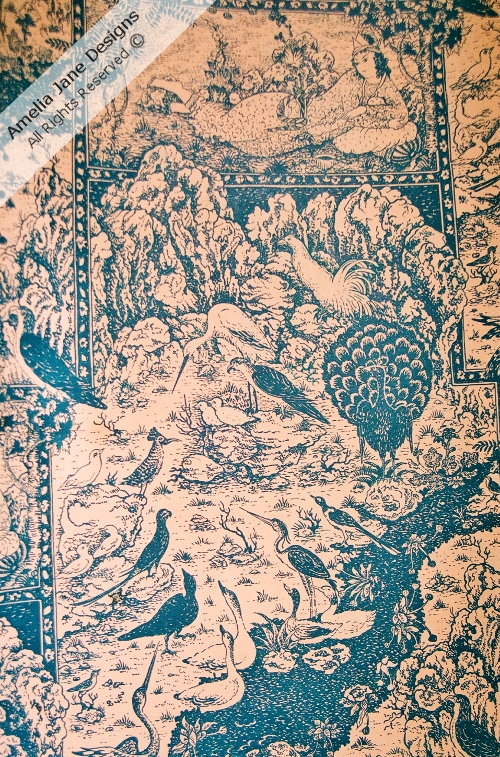 Having taken a TESOL teaching course 2005, work drifted into ESL and crafts tutoring for more regular, comfortable work.  It was fortunate I set a change of course,  as after painting the Cathedral for the local Council offices 2006, I was stopped in my tracks, due to a major operation needing long recovery time; and which stopped mural works which require balancing and stretching from ladders.  I ceased the heavier work of boat upholstery and made clothes part time for a local fashion label 'Where Are YouNow' (selling well in London Top Shop).
After a year's temporary Textile Technician 2008-09 in a high school, I was even more focused on working from home, making my own designs.   Shamanic Nights ethical craft business started from my recycled fabrics collection which is now rather large.  Envisioned firstly as a quilting enterprise, patchworks morphed into dressing gowns and on suggestion by craft fair visitors, again developed into various unique ladies' fashions; done more for the love of the craft than profitability.  Visions are now for quilts again.
Following a year's sojourn in Cornwall and Dorset where I taught summer ESL schools to French, Spanish and German students for 2 years running, I was commissioned in 2012 to repaint all the murals at Exeter St. Davids Railway Station; a large project requiring scaffolding in the cold, which I was happily fit to do. The original artist's paintwork, based on Michael Angelo figures, was wearing off badly after 20 years. Now, thanks to new paint and varnish, they are as good as new, the colours exactly as I applied 10 years ago.
After 2010 painting was confined to silk panels in bespoke clothes, making and selling at craft fairs, and complimented by part time language teaching; summer schools, homestay intensive courses, and nightly online classes 2010 -18.
In 2020 alongside silk painting and fashion making, I learned to create websites for my enterprises.  I started small paintings on wood; as playful developmental ideas towards new mural, having missed painting during a long period of sewing!  SILK PAINTING - SEWING - WOOD PAINTING occupy my creative hours, soon to include prints from my landscape photographs to be manipulated and reproduced on silk and wood.  Working with colour is a joy using my intuitive colour mixing skills, while the experience painting shabby chic furniture inspires techniques of sanding paint layers to artistic effect.
Commissions welcomed as paintings or larger mural boards, using my research time, or clients' own travel photographs: maximum sizes example 4ft x 3ft, 4ft x 4ft. to be done in home studio during the ongoing covid restrictive situation.  Wood is better than wall surface for painting, as sanding off effects can be effective texture, and easier to varnish.  Larger murals can be done as a sequence of three; a tryptich; also in idea process for small paintings.
[add links to sites in text and LinkedIn]