Magnolia and Camelia below trompe l'oeil balcony (header)
Hotel Reception: Exmouth view to estuary
Mural commissioned by Imperial Hotel, to portray the landscape when hotel was built circa 1830.
Exmouth Spit view over estuary circa 1830
A 12ft bricked up window within architraves gives a niche space which enabled developing a long view across the landscape and water.
Mural reflects a view that would be visible in that direction beyond the building.  The eye is drawn down the hill, across the spit, over the estuary, and up into the distant hills.
Continuing the scene, the hills are reintroduced over a door, further along the wall.  Scaffolding was required to complete all levels with attention to detail, such as the seaweed lines on the beach.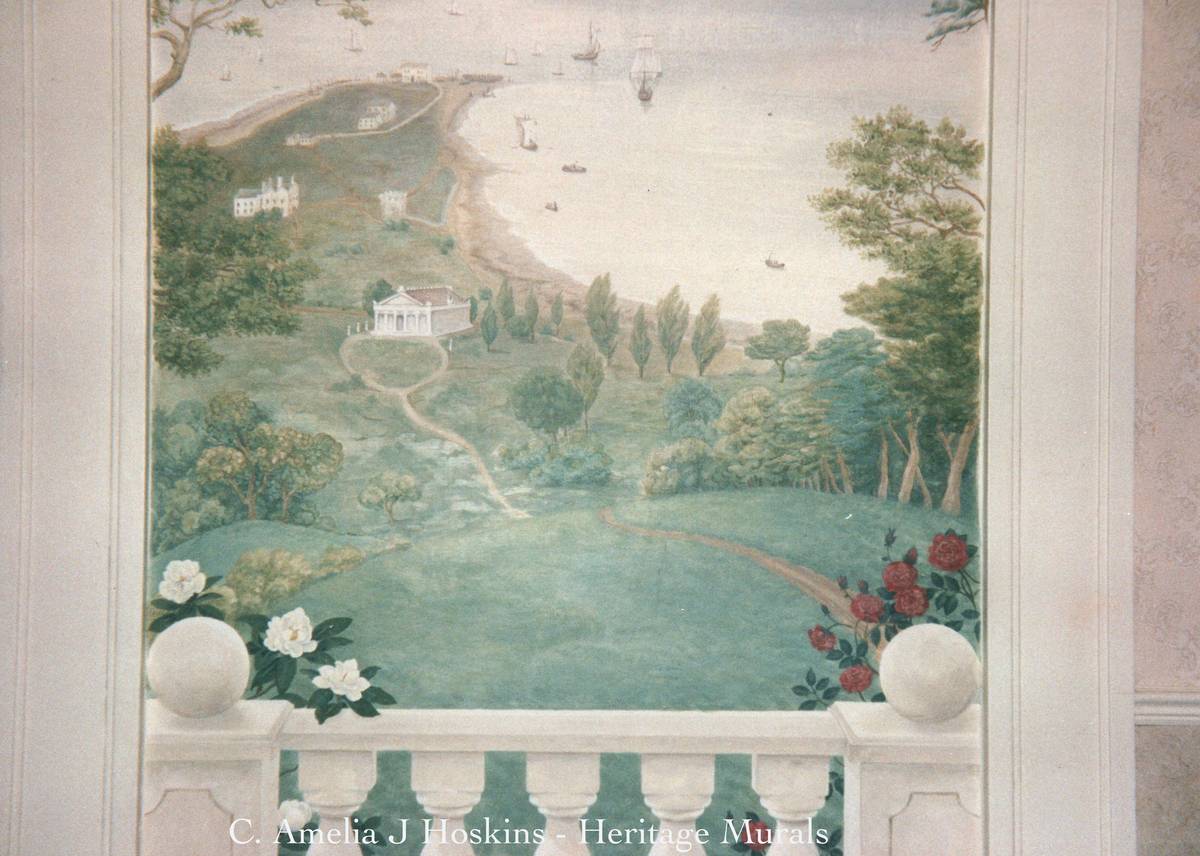 Mural full length in four sections
Lithographs of Exmouth Spit between the sea and Exe Estuary
Lithographs of the area were in the hotel and the museum, which were used for reference to the spit and countryside as they were in c.1830; also the ships and boatbuilding, before the town was developed.  The trees stylisation mimics engravings of the era, with tree tones interpreted into greens.
Hotel Reception II: Seascape and trees around doorway
The 12ft high space gives room above doors for a good sized painting of clouds.  Around side of doors has just enough space for garden view and plants.  City to far right represents Exeter.  Trading in the day was prolific with square riggers sailing to Exeter, exporting wool serge and importing wine, spices, silk and pottery.  Exmouth also had the early steamships from London once a week exchanging goods and trade.  Click to view as gallery.
Similarly to the main mural, a balcony is intimated at the base, either side of doors.  The large ball topped ballustrades give a weight and extra interest to the picture as balcony ends before doors.
The secret of muted tones is achieved by 'colouring' with artists' acrylics mixed into dark cream and palest green emulsion.  A range of dirty white tones mixed with Raw Umber and scumble glaze gives illusion of an old stone balcony.  Base stone flags above the skirting board are trompe-l'oeil.